I can say that Higher Score® is the highest qualified school to the students who are going to prepare to English Test such as TOEFL, TOEIC, and IELTS. I guarantee you can get not only a lot of information about English tests, but also be provided the way how to complement your weakness as fast as possible. For these reasons, I do not hesitate to recommend to invest just one day to take a trial lesson at Higher Score®. Probably, you will be able to believe me.

Jun, Korea
Take a Free Class at Higher Score®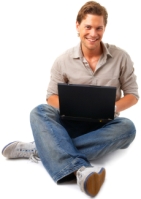 To help you decide if Higher Score® is the best place to study TOEFL, TOEIC or IELTS, we offer
a free full-day lesson
to all students.
During the free trial lesson you can:
meet the regular expert teacher of our exam class;
learn useful strategies, skills and tips for your exam;
get free advice and information about our programs;
receive free counselling and an assessment of your level;
talk with other students who have already registered.
Please note this is a free lesson, not a free test, and if you want to study for more than one day, you will have to become a registered student.
Tweet
Place this tag where you want the +1 button to render. -->
Reservation Form
(required)
To take a free class you must make a reservation: just fill out this simple form and we will contact you within two business days to book your free lesson.