He's so kind to students and I have never seen a teacher such like him. I was amazed about his teaching skill and his ideas about English. I love my TOEIC class!

Han Sol, Korea
Introduction to TOEIC
TOEIC is an English examination that tests your knowledge of business English in four key areas: reading, listening, grammar and vocabulary.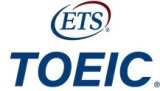 The TOEIC test is designed and administered by ETS, Educational Testing Services, an American company based in New Jersey. ETS also administers other common tests like TOEFL, GMAT and GRE.
The maximum score on TOEIC is 990 points. A reasonable score is above 700 points, a good score is anything above 800 points, and a great score is anything above 900 points. At Higher Score® at EC, we try to help all of our TOEIC students get more than 800 or 900 points.
What to Expect If You Take TOEIC
TOEIC is a very challenging examination, and unfortunately, many students find it hard to achieve the score they need. One reason for this is that the TOEIC questions use many challenging words, so students need a good vocabulary. The other reason is that TOEIC questions challenge students in a very logical manner. Many students are not comfortable with this type of thinking, which can make the test very challenging. The good news is that Higher Score® teachers can help you learn this type of thinking, which will give you a big advantage during the TOEIC test and help you after you get a job.
This table shows some information about the different sections of the test:
Course
Skills
Time
Questions
Comments
Part 1
Listening
around 45 minutes
10
Picture questions
Part 2
30
Sentence and response
Part 3
30
Short conversations
Part 4
30
Short talks
Part 5
Grammar Vocabulary Reading
75 minutes
40
Sentence completion
Part 6
12
Text completion
Part 7
48
Reading comprehension
How to Register for TOEIC